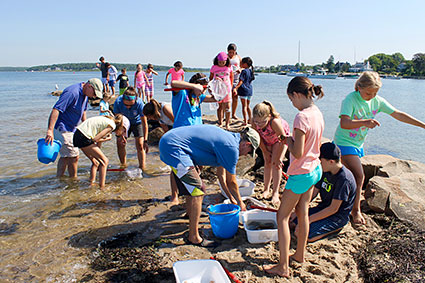 Children's Program: Napatree Investigators  (Free)
Our hugely popular Napatree Investigators series runs July and August on Tuesday, Wednesday and Thursdays from 8:30 AM to 10:30 AM, weather permitting.
Directed by Stephen Brown, the Science Chair at Pine Point School in Connecticut, and assisted by Hugh Markey, Warwick High School teacher, the program is available on a first-come, first-served basis to children ages seven to fourteen.
Our Investigators learn about Napatree's varied habitats and the animals that live there.  What's more fun than exploring a beach with nets and buckets on a summer day?
Registration is required and opens June 1st.  Children may attend once or attend each segment.  Check the calendar for dates and message Napatreenaturalist@gmail.com to register. To avoid being closed out of your preferred session(s), register early! Registration is required.