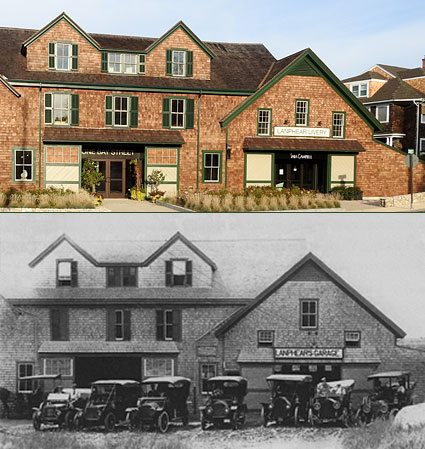 The mission of One Bay Street Center Inc. and the Lanphear Livery is to preserve Bay Street's architectural heritage and stimulate the economic vitality of Bay Street and its environs through education, advocacy, historic preservation, and sensitive re-development of key historic and non-historic properties. This is accomplished by collaborating and partnering with community-based organizations for educational programming and demonstration projects; retaining and developing viable commercial and recreational properties and community assets; collaborating to preserve and develop real estate; and serving as a catalyst for public and private investment. Lanphear Livery at One Bay Street Center believes that in demonstrating how Bay Street may be revitalized without destroying community character, more interest, support, and investment will follow.
The Lanphear Livery celebrates the cultural history of Watch Hill.  In 2017 the Livery was the recipient of the prestigious Rhody Project Award given by Preserve Rhode Island and the Rhode Island Historical Preservation & Heritage Commission. It is also the gateway to the Napatree Point Conservation Area – a biodiversity hotspot and the most pristine barrier beach ecosystem in the region. Learn more about Napatree.
One Bay Street Center, Inc. is a 501(c) (3) as recognized in the IRS code of 1986. The Lanphear Livery (at One Bay Street) is listed in the National Register of Historic Places. We can be reached at ll-info@lanphearlivery.org.