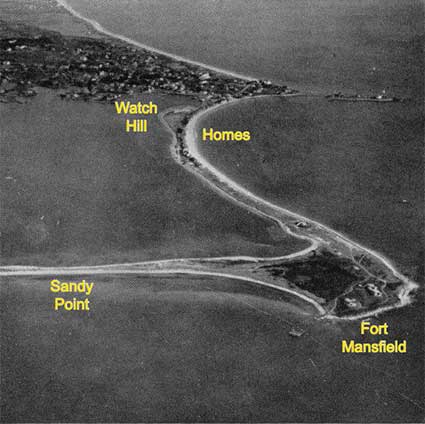 In 1614, the Dutch Trader Adriaen Block sailed up Long Island Sound to Little Narragansett Bay. He formally named Fisher's Island after one of his crew and he called the narrow spit of land extending out from Watch Hill "Nap of Trees" because of its heavy forest cover.  The name Napatree Point has persisted.  Captain Block then visited Block Island and named it after himself (1).
Napatree is a storm-driven ecosystem.  The forest cover that Captain Block observed was destroyed in the Great Gale of 1815 (2). In 1898, the US Government purchased 60 acres of the west end of Napatree and built Fort Mansfield, a military fortification to protect the entrance to Little Narragansett Bay between Watch Hill Point to Fisher's Island. In its heyday, Fort Mansfield had three large canon batteries and was staffed by up to 100 soldiers. In 1907, it was determined that Fort Mansfield had a major design flaw and enemy ships could pass under the trajectory of the shells.  The Fort was decommissioned and sold to a syndicate of Watch Hill developers.  The syndicate defaulted on their debt in 1931 and the Washington Trust Company foreclosed on the property (3).
In the 1920's and 1930's summer cottages were built along Napatree. By 1938, 39 cottages lined the dune crest of Napatree.  The Hurricane of 1938 changed the face of Napatree forever.  All of the buildings were blown into Little Narragansett Bay and 15 Watch Hill residents died.  Sandy Point, which was connected to the western tip of Napatree, was separated and began its migration north, now almost reaching the Stonington shore all the way across Little Narragansett Bay (2).
In 1945, the Watch Hill Fire District purchased most of the land that comprises Napatree Point to preserve it for public enjoyment and conservation of nature.  In 2013, the Fire District granted the Chaplin B. Barnes Conservation Easement over their parcels on Napatree to the Watch Hill Conservancy. The Fire District and the Conservancy collaboratively steward Napatree and offer educational programs for children and visitors.  The Napatree Point Conservation Area is open all year for visitors to enjoy the serenity and beauty of this special place.
References
G. Pettys. 2016. How Napatree Point got its name. Westerly Life.
C. Barnes. 2005. Watch Hill through time. Watch Hill Conservancy.
G. Russell. 2014. Military exercise exposed Fort Mansfield's flaw. Westerly Sun